Cardiovascular & Pulmonary Rehabilitation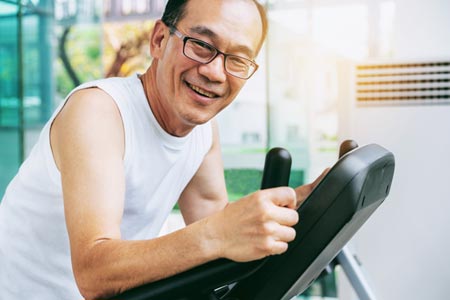 Some individuals may be most limited by their overall aerobic capacity and need professional guidance and monitoring to help them achieve a higher functional capacity with their everyday activities. We partner with your cardiologist, pulmonologist, or primary care physician to ensure proper safety and oversight of your rehabilitation back to higher levels of activity in a safe and monitored manner.
In this form of rehab, we closely monitor your blood pressure, oxygen saturation levels, heart rate, respiratory rate, and rate of perceived exertion. Our goal is to create a baseline level of activity for your individual situation and monitor your response through consistent vital journaling to know what level of exercise intensity we can guide you safely toward. There is a wealth of research that suggests that interval training for short burst exercise followed by rest shows optimal results for individuals with cardiovascular dysfunction or inefficiency.
If you are experiencing fatigue, difficulty breathing, and have experienced much lower levels of activity, ask your physician about cardiovascular and pulmonary rehab to jumpstart your function and quality of your life.
---