Brad Howell, DPT, OCS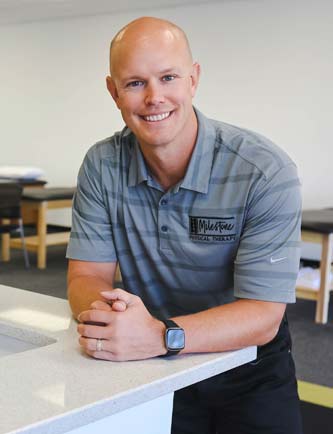 Brad Howell, DPT, is a 2010 graduate of Indiana University's Doctorate of Physical Therapy program. In 2012, Brad obtained board certification in clinical orthopedics through The American Board of Physical Therapy Specialists, which is a distinction held by less than 8% of all physical therapists.
Brad's passion for leading others back from injury started with his competitive background in sports. He played basketball at Lincoln College where he was captain of the team and helped lead his team to the NJCAA Final Four in 2005 while earning Academic All-American Honors. Brad then transferred to Ball State University where his focus on becoming a physical therapist intensified as he studied Exercise Science and spent two years absorbing knowledge through volunteer time outside the classroom at their world renowned human performance laboratory and biomechanics laboratory.
Brad has practiced outpatient physical therapy services on the Southside of Indianapolis for his entire career and enjoys that he has the opportunity to serve the geography in which he grew up. Brad married his elementary school sweetheart, Carly, and they both graduated from Southport High School. They both now reside in the Center Grove area and enjoy raising their son, Miles.
Brad's favorite hobbies include attending Southland Community Church, coaching his son's sports, spending time with family, and podcasting on his personal wellness podcast SportSquire. Brad's love of radio started with his 5 year stint of being the injury analyst on Indy's Sportcenter on the primetime local sports show, The Ride with JMV, where he broke down injuries with local expert physicians during the NFL, NBA, MLB seasons. Brad and his team are excited to offer an enhanced physical therapy experience for all those on the Southside of Indianapolis.